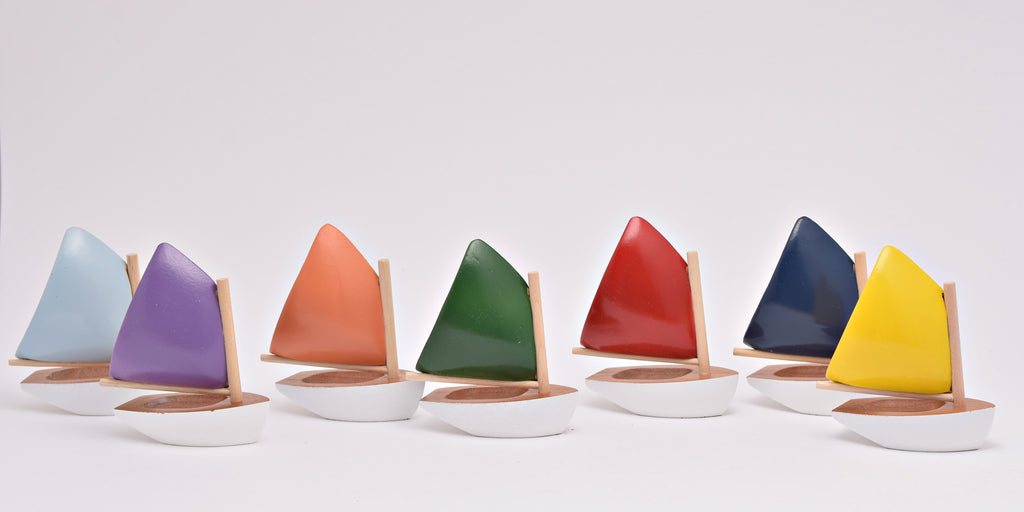 Primary Colors Rainbow Fleet Sailboat
$ 385.00
The last of the 3rd Series of the Rainbow Fleet Primary Colors sets are now available.
The final sets will be marked on the bottom with a star indicating they are the last of the sets from the 3rd series.

The very first boats were hand caved by Gavin Jones.
The second series was hand-carved by Gavin Jones and Tom Stoddart and had a double inverted W on the bottom.
The third series was Jones/Brown creations with smoother sails.
We HOPE to continue with Gavin's designs and new people in late 2020
---
Generations of Nantucket children have learned to sail aboard the island's charming little beetle cat sailboats. Each boat is identified by a joyfully colored sail. The Rainbow Fleet parading across the Nantucket Harbor might just be the most iconic image of the island.
These amazingly beautiful hand-carved boats represent our historic Rainbow Fleet, which began on Island in the 1920s.  Designed by island artist Gavin Jones.
Age: adult
Measures: 2"  x 1.5" x  3"